Restaurants in Savannah, GA
Aqua Star Seafood Kitchen
When looking for delicious seafood in Savannah, The Westin Savannah Harbor Golf Resort & Spa's very own Aqua Star is one of the best seafood restaurants in Savannah GA.
Take a free ferry ride from River Street, or cross the bridge for free parking while enjoying some of the freshest local catches and Pacific specialties, all presented in contemporary style.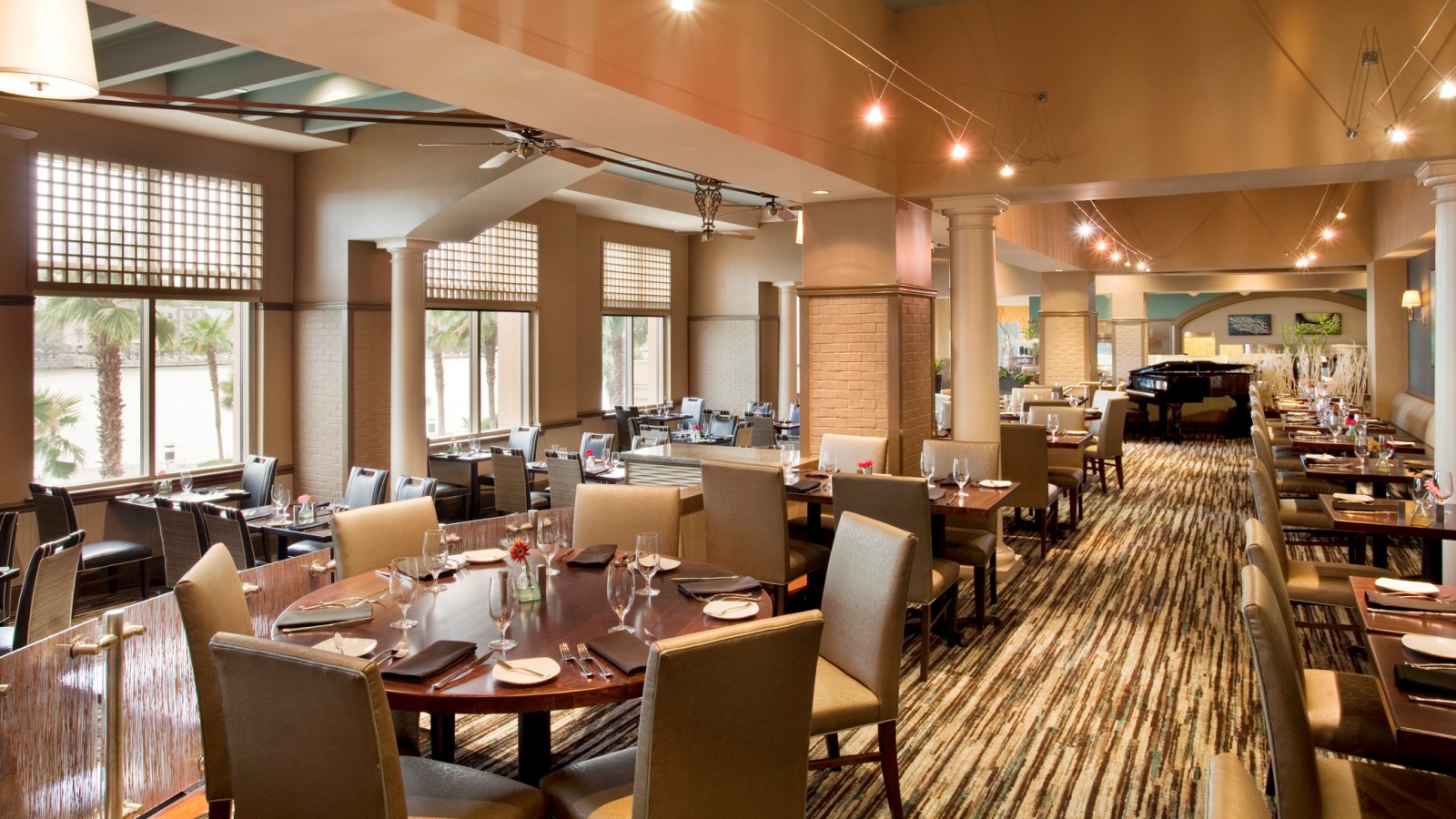 Enjoy the best in southern hospitality with locally sourced flavors at Aqua Star Southern Coastal Kitchen. Arriving by the free Savannah Belle's Water Ferry or taking advantage of complimentary parking, your luxury dining experience will certainly make an impression for any special occasion or just a night out in Savannah. Giant windows overlooking the Savannah River are breathtaking as the huge container ships pass to-and-fro through the busy waterway. Fish to Fork options feature Carolina Snapper, Florida Grouper, fresh salmon and the area's best Georgia Shrimp. And while seafood is their specialty, the steaks and vegetarian dishes offer splendid tastes with innovative preparations.
Executive Chef Julian DellaPorta's influence over this locally sourced cuisine brings a unique flare to traditional southern dishes. Our diverse service staff brings expertise from all seven continents to bring a strong variety of culture and significance to your meal. In addition to offering a rare selection of Growers Champagne, the wine and cocktail lists present a strong selection with pairing options for any entree. Perhaps most notable is the "Sunday Jazz Brunch" featuring the Equinox Trio where diners enjoy an unending array of delectable options like sushi, shrimp & grits, steak, impressive raw-bar and decadent desserts.
Known as The South's Downtown Resort, The Westin invites locals and visitors to amplify their resort experience with world-class treatments at the Heavenly Spa by Westin a round of golf at The Club at Savannah Harbor prior to dining. With all options presented, Aqua Star Southern Coastal Kitchen is a "can't miss" in Savannah's modern dining scene.
Cuisine: Seafood
Breakfast: 6:30 - 11 AM (12 PM on weekends)
Lunch: 12:00 - 3:00 PM
Sunday Jazz Brunch: 12:00 AM -3:00 PM
Dinner: 6:00 - 10:00 PM
Atmosphere: Resort Casual
Introducing Chef Anthony Burdo
Chef Anthony Burdo leads the culinary team at The Westin Savannah Harbor Golf Resort & Spa, curating six on-site dining experiences with over 30,000 sq. feet of meeting and convention space.
Burdo started his unofficial culinary career at a young age, inspired by his grandmother—a native of Campobasso, just outside of Naples, Italy—as he watched her prepare freshly made pasta, meatballs, and sauces and source the freshest garden vegetables. A 13-year veteran with Marriott, Burdo began his career at the Marriott World Center as an opening team member at Ristorante Tuscany, and ultimately served as senior sous chef overseeing Ristorante Tuscany and Siro Urban Italian Restaurant. Burdo also completed a strenuous 10-week culinary manager training program at Atlanta Marriott Northeast, in addition to serving as sous chef for Fish in Charleston, South Carolina.

Chef Burdo is an incredible talent who brings with him unparalleled knowledge of the industry to your dining experience at The Westin Savannah Harbor Golf Resort & Spa.